Article: Creating a Seamless Indoor-Outdoor Living Space with a Stainless Steel Outdoor Kitchen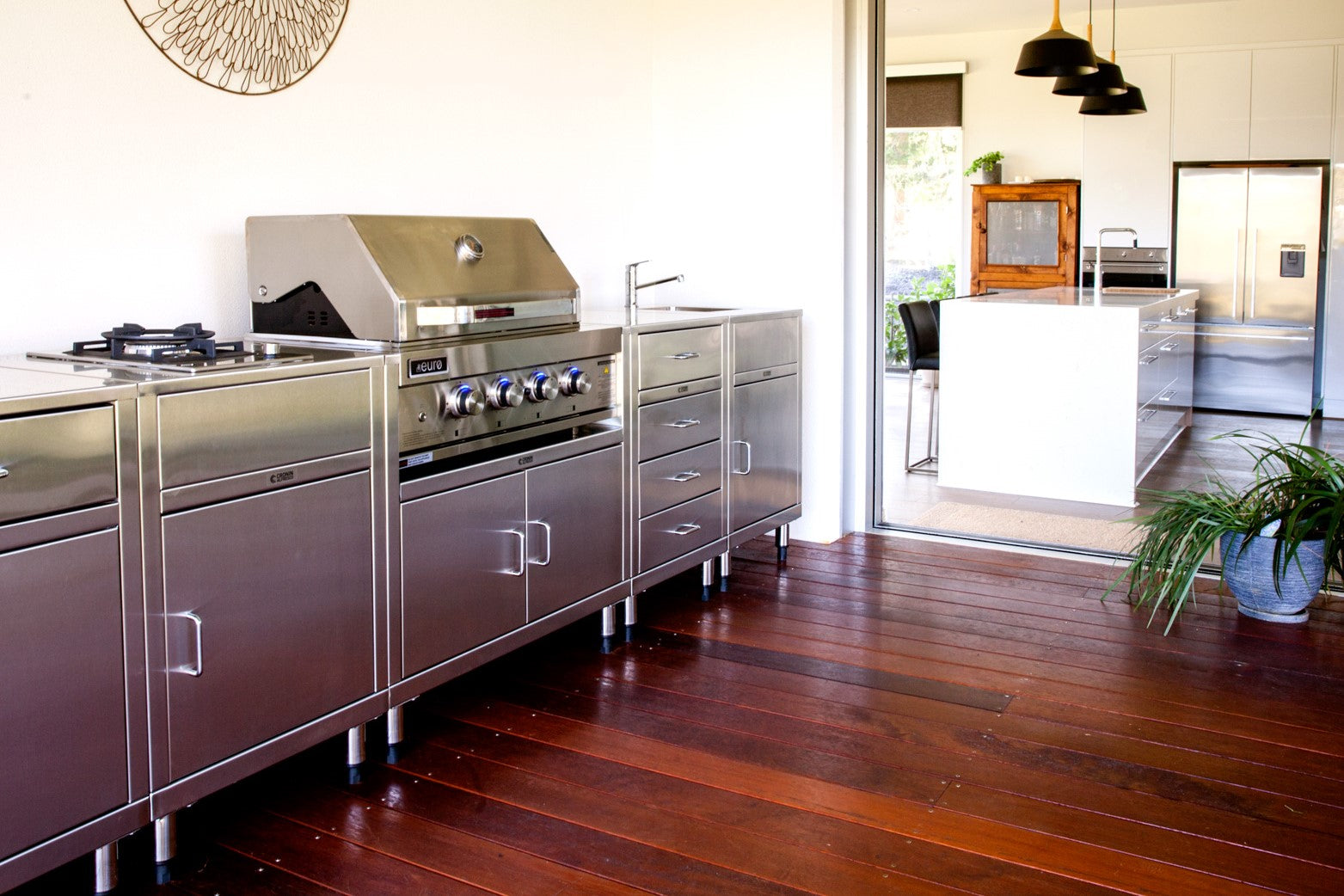 Creating a Seamless Indoor-Outdoor Living Space with a Stainless Steel Outdoor Kitchen
Outdoor kitchens are becoming increasingly popular in Australia, and for good reason. Not only do they offer the convenience of having all your cooking needs in one place, but they also create a seamless transition between your indoor and outdoor living spaces. If you're looking to create a durable, stylish, and customizable outdoor kitchen, consider using stainless steel as your material of choice.
Benefits of Stainless Steel Outdoor Kitchens
Stainless steel outdoor kitchens have several advantages over other materials. Firstly, stainless steel is extremely durable and resistant to corrosion, heat, and moisture, making it perfect for outdoor use. Secondly, it's easy to clean and maintain, ensuring it will look as good as new for years to come. Thirdly, stainless steel has a sleek and modern look that will complement any outdoor living space. It's available in a variety of finishes, including brushed, polished, and matte, giving you the ability to choose the perfect style for your outdoor kitchen. For more details on what to expect with stainless steel finishes , this ARTICLE is a great starting point 
Fourthly, stainless steel outdoor kitchens are customizable, allowing you to design them to fit your specific needs and preferences. Finally, adding a stainless steel outdoor kitchen to your home can increase its value and appeal.
 Designing Your Stainless Steel Outdoor Kitchen
When designing your stainless steel outdoor kitchen, there are a few things to consider. Firstly, determine your cooking needs and make a list of the appliances and features you may want in your outdoor kitchen. This will help you decide on the size and layout of your kitchen. Secondly, choose the location of your outdoor kitchen carefully.
Consider the layout of your backyard, any natural features, and architectural elements that could impact the area. Position your outdoor kitchen to minimize the harshest elements of the hot summer sun and local wind conditions. Also consider blinds or other shading options which will help create a more comfortable environment by blocking the harsh sunlight or wind. If you have large sliding or bi-fold doors leading to the outdoor space, consider placing the outdoor kitchen nearby to create a natural flow between the two areas.
Incorporate Design Elements
To make your outdoor kitchen look great, incorporate design elements that complement your outdoor living space with your indoor areas. Some such elements to consider include lighting, countertops, splashbacks, and flooring. Choose materials that are durable and easy to clean. By choosing materials, textures, styles and colours that are similar or complementary to your indoor décor, then a seamless flow between your outdoor kitchen and indoor living space is possible.
Creating Zones
When it comes to organizing your outdoor living space, it's a great idea to create separate areas for cooking, dining, and entertaining. This way, everything has its own place. To achieve this, you can use stainless steel appliances like built-in grills, outdoor refrigerators, and sinks. These not only add a stylish touch but also clearly define each zone and make your outdoor kitchen more functional and unified.
Having a functional outdoor dining area is fantastic because it gives you the flexibility to use it for regular meals, even if you're not using the barbecue. And if you want to create a fun area for people to gather and socialize, you can consider adding a well-stocked bar fridge or a beverage cooler in the right spot. This will encourage guests to gather around and enjoy each other's company while enjoying a cold beveridge.
By carefully planning and designing your different zones, you'll create a versatile outdoor space that complements the areas you already have indoors. It's all about making the most of your outdoor living and ensuring that it's both practical and enjoyable for everyone.
Flow and Access
When designing the layout of your outdoor kitchen, it's important to consider the flow and accessibility of the space. You want to make sure that the kitchen is situated in a way that allows for easy access from both your indoor kitchen and dining area, as well as your backyard. If you have large sliding or bi-fold doors that lead from your indoor space to your outdoor area, placing your outdoor kitchen nearby can enhance the flow and access between the two areas. This not only makes it easier to bring food and supplies from the indoors to the outdoors, but it also creates a seamless transition between the two spaces. If possible consider installing a pass through window between the two areas, which is another great way to pass cooking supplies between the two. A pass through window also adds a visual flow between indoors and outdoors.
Additionally, it's important to consider the flow of your outdoor kitchen into your backyard area. If you plan on hosting outdoor gatherings, or you have a play area nearby for the kids, you'll want to make sure that the layout of your outdoor kitchen allows for easy movement between the two areas. This can be achieved by placing your kitchen in a location that allows easy access to to the backyard.
You will also need to consider how your outdoor furniture is located. Does it block access into or out of your alfresco area? Is there a clear path for access? Or does your furniture block the view of your garden? Get this flow and access right, and your backyard, outdoor living space and indoor areas will feel like one seamless area.
Modular Kitchens
One approach to use when considering what to install in your outdoor kitchen is to use modular cabinets. A modular outdoor kitchen is a prefabricated system of cabinets, countertops, and appliances that can be configured to create your outdoor cooking and entertaining space. Modular cabinets, such as the stainless steel cabinets available from Cronin Alfresco, offer flexibility and customisation and can be arranged and assembled in any configuration. This flexibility allows you to consider the available space, layout, and functionality to ensure a cohesive and functional indoor, outdoor space. And by choosing stainless steel you are using a material that is durable, low maintenance and sleek; it's no wonder why stainless steel is a popular choice for outdoor kitchens!
Conclusion
A stainless steel outdoor kitchen can be a great addition to any backyard. It offers durability, easy maintenance, and a modern look that can increase the value of your home. When designing your outdoor kitchen, consider your cooking needs, location, and design elements that complement your outdoor living space. By creating designated zones, ensuring flow and access, and using modular kitchens, you can create a seamless indoor-outdoor living space that will be the envy of all your friends and family.
For more information contact Cronin Alfresco to learn more about our stainless steel modular cabinets and get started on your dream outdoor space today. www.croninalfresco.com.au
Author - Shaun O.
Shaun is the Managing Director of Cronin Alfresco and Cronin Fabrication, with over 20 years of experience in the sheet metal industry. His expertise in the field has helped Cronin Fabrication become a leading provider of sheet metal fabrication services and wire products in Adelaide.Under his leadership, Cronin Alfresco has also established itself as a trusted designer and provider of high-quality alfresco kitchens.