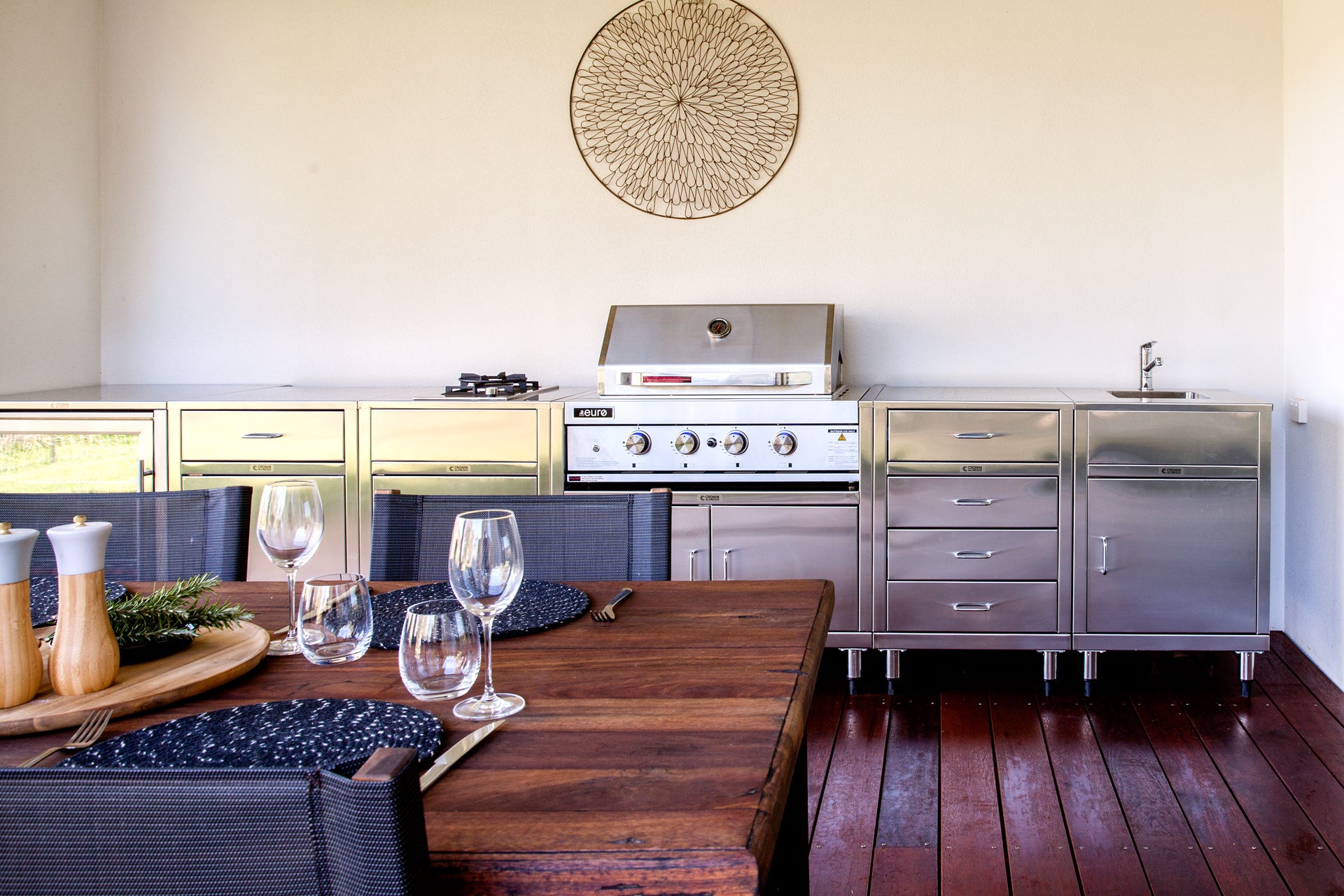 8 TOP BENEFITS OF STAINLESS STEEL OUTDOOR KITCHENS
If you're planning on setting up an elegant and beautiful outdoor kitchen, the best way to achieve it is by opting for stainless steel products. The material is a top choice when it comes to outdoor kitchen equipment for many good reasons.
Aside from its stunning sleek finish, stainless steel presents numerous benefits. In comparison to stone, wood, and other porous materials, it is extremely durable and easy to clean. So with that in mind, here's a list of the top benefits of why you should have a stainless steel outdoor kitchen.
Highly Durable
It's vital to select the materials of your new outdoor kitchen carefully because it'll be constantly exposed to harsh conditions. Stainless steel is highly durable and capable of withstanding wear and tear due to everyday use and extreme weather. Also, it will not warp like wood.
Resistance To Rust
Unlike other outdoor kitchen appliances and furniture materials, stainless steel is much more resistant to rust. Likewise, it is designed to handle any sort of corrosion in extreme environmental conditions. These include corrosion due to chlorine, acids, alkaline solutions, and environments exposed to chloride. 
The material can even endure high temperatures and pressures. Hence, stainless steel is the perfect material for homeowners living in coastal areas or in high-humidity regions. 
Hygienic 
Stainless steel is a durable and easy to clean material. And because stainless steel has virtually no pores in its makeup, and with regular cleaning, it helps to inhibit the build-up of dirt, mould, bacteria and viruses. This is one of the main reasons that stainless steel is the first choice of materials for bench tops and work spaces in hospitals, commercial food preparation areas, kitchens, wineries, breweries, and pharmaceutical processing facilities
Easy To Maintain And Clean
Stainless steel outdoor kitchens are a fantastic addition to your home. And one of its biggest advantages is that it requires little maintenance. No matter what coating option you'll go for, it'll greatly minimise the upkeep you need for your kitchen gadgets and furniture. 
So instead of having to wipe down visible fingerprints all the time, you'll only need to do it periodically using a dampen cloth. Hence, you don't have to spend many hours wiping down and cleaning after every outdoor cooking or bbq session.
Versatile
If later on, you decide to modify or renovate your outdoor kitchen space, simply choose a different style or finish. You can have any look you want, you can transition from traditional to modern or even for a fun beach theme. Stainless steel appliances can complement your outdoor living area perfectly because it has that classic yet modern characteristic.
Furthermore, the material is adaptable to any designs you may have in mind. You also have a choice to customise your stainless steel outdoor kitchen cabinets to complement your other kitchen accessories and appliances. You'll be able to achieve that beautiful, sleek outdoor area easily.
Easy Installation
You'll need to call a stonemason for some cabinetry jobs. This means that it'll be a disruptive, dusty, and not to mention, a long installation process. On the other hand, the installation of stainless steel outdoor kitchen cabinets will usually take one day. As a result, it'll cut down installation costs and all the inconvenience.
An Environmentally-Friendly Option
Stainless steel outdoor kitchens are not only durable and easy to clean but an eco-friendly choice as well. These materials are completely recyclable and strong. So you don't have to worry about having to replace or revamp them to preserve the pristine appearance of your outdoor entertainment area. Thereby, stainless steel is also a highly cost-effective choice of material for outdoor kitchens
Additionally, you don't have to use a lot of cleaning supplies like paper towels and toxic chemicals that may potentially harm the environment.
Beautiful Aesthetic
A stainless steel kitchen looks stunning and stylish. It offers an aesthetic appeal that goes with just about all design styles. Also, it'll assure you that it'll stay that way for a long time because of its durability and resistance to environmental elements. Plus, you'll have an outdoor living area that flows together well.