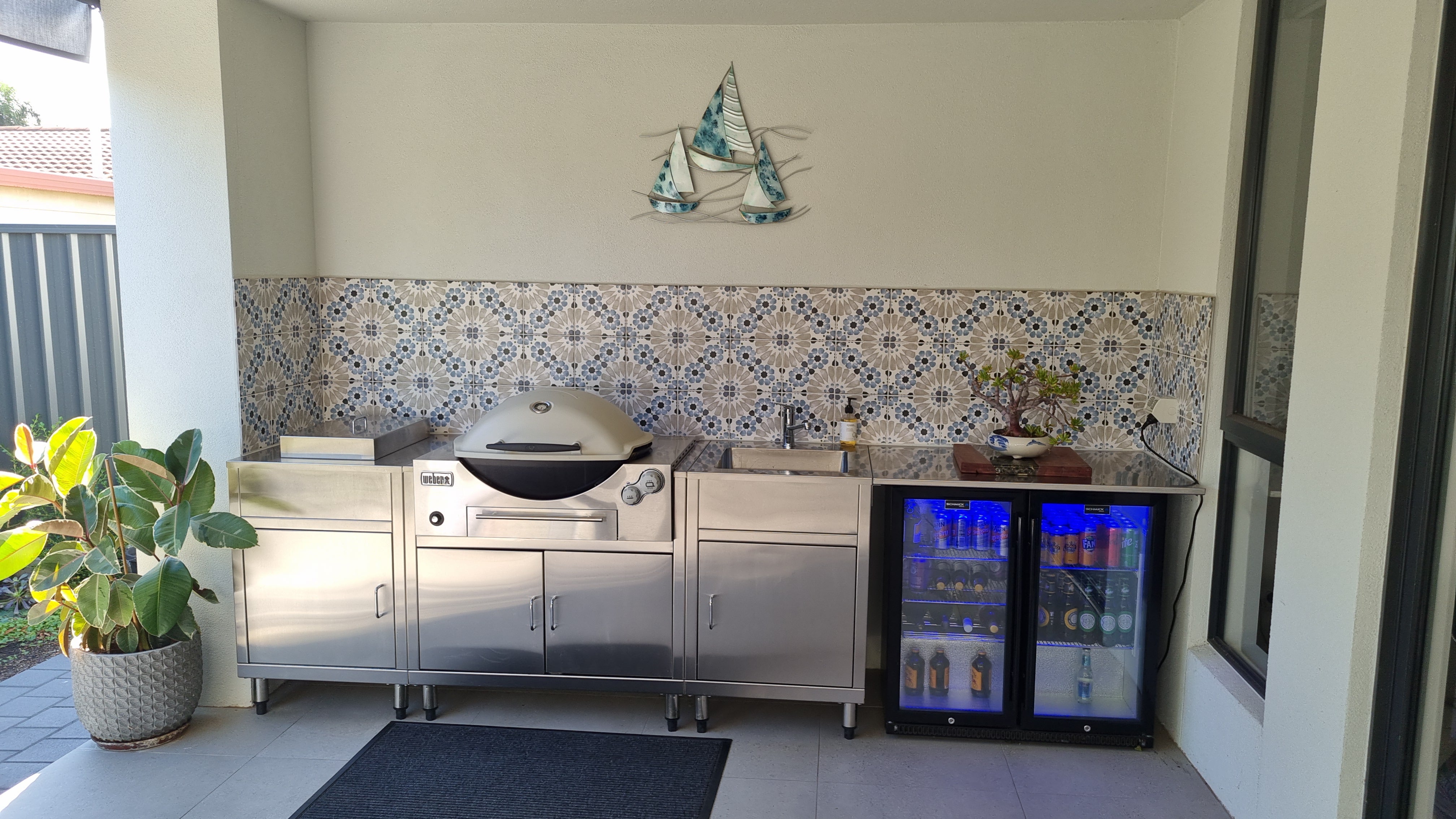 Best Australian-Made Outdoor Kitchens in 2022
Outdoor kitchens have a variety of uses and add incredible value to both new builds and renovations. Adding an outdoor kitchen can serve different purposes for each homeowner, from simply expanding a home's living space to enhancing the experience of entertaining guests. In Australia and Adelaide outdoor kitchens are becoming increasingly popular in residential properties, with people opting to add the space as a final touch to their property.
Regardless of your reasons for wanting an outdoor kitchen or modular cabinets, it's important that you know how to find the best Australian-made kitchen possible.
What Are Outdoor Kitchens and Why Are They Important?
An outdoor kitchen can be used for entirely different purposes than an indoor kitchen. These kitchens serve as the main hub for entertaining and cooking food outdoors, with a range of appliances to help cook any meal. The best Australian-made outdoor kitchens are designed with durability in mind, ensuring that they will stand up to the test of time. This is particularly important when considering how much these kitchens cost on average, with homeowners often spending anywhere from $10,000-$30,000+ on them. 
In addition to providing a convenient space for cooking, outdoor kitchens are also increasingly becoming a focal point for homes thanks to their aesthetic value. Homeowners often choose to build their outdoor kitchen with an eye towards creating a seamless transition from the rest of the backyard space, ensuring that it's easy to move between the indoor and outdoor home living areas. If you're considering adding an outdoor kitchen to your next home construction or renovation project, be sure to work with an experienced design professional who can help you plan and execute this exciting new addition!
The Benefits of An Outdoor Kitchen
Whether you opt for pre-designed packages or custom choices, outdoor kitchens offer several benefits, and here are a few of them:
1. Increased Entertainment Options
An outdoor kitchen is a perfect way for homeowners to entertain guests and family members in a comfortable and convenient setting. Whether you're hosting a barbecue, a summertime gathering, or simply want to enjoy some downtime outside, an outdoor kitchen makes it easy to cook, socialise, and relax.
2. Added Home Value
Adding an outdoor kitchen is also a great way to increase the value of your home. These spaces are popular among homeowners and often considered desirable by prospective buyers when looking at new homes or properties on the market.
3. Excellent Functionality
Outdoor kitchens are designed with functional aspects in mind, ensuring that they can be used comfortably regardless of weather conditions or other external factors. With built-in heating and cooling features, these kitchens can be used all year round.
4. Convenience and Efficiency
Outdoor kitchens often include a variety of appliances to help with the cooking process, including built-in grills, pizza ovens, sinks, and more. These high-tech additions help to make outdoor cooking as simple and convenient as possible.
5. Personalisation Options
Finally, another great benefit of an outdoor kitchen is that you have plenty of flexibility in terms of customisation options. Whether you want to add seating or other design elements, it's easy to create your ideal space with a little bit of planning!
6. Aesthetics
Of course, let's not forget about the aesthetics! Outdoor kitchens can be designed to fit seamlessly into the existing landscape of your backyard or patio, helping to create a cohesive look throughout your entire home.
7. Increased Living Space
Finally, by adding an outdoor kitchen, you're effectively expanding the living space and overall functionality of your home. This is particularly ideal for homeowners who don't have enough room inside to entertain guests or cook a family meal.
8. Added Value for Resale
If you're thinking about selling your home in the near future, adding an outdoor kitchen can be a great way to increase its value and make it more appealing to potential buyers. With this feature, they'll see that they will get all the benefits listed above!
 If you're ready to add an outdoor kitchen to your home, be sure to work with a reputable design and build company that can help turn your vision into reality!​ As you can see, there are plenty of great benefits to having an outdoor kitchen in your home. Whether you want more flexibility for hosting guests or simply want the convenience and efficiency that comes with high-tech cooking space, this is one renovation project worth considering!
 What Type of An Outdoor Kitchen is Best For You?
Outdoor kitchens are available in various types and here are some of the most popular:
1. Freestanding outdoor kitchens
These are your traditional grilling and cooking station setups. They typically have a built-in grill or a barbecue, made out of stainless steel, and other appliances that help you prepare food outdoors. These outdoor kitchens offer various benefits that include being more cost-effective than other types, being easy to install and maintain, and being great for entertaining guests.
2. Modular outdoor kitchens
Modular outdoor kitchens are created from pre-fabricated elements so they can be easily disassembled or moved if necessary. They are designed to specifically for outdoor kitchens and come with all the same appliances, including BBQs, side burners, drinks coolers and sinks. Also available are modular cabinets which can be used as part of the installation for your kitchen.
3. Outdoor kitchen islands
An outdoor kitchen island is similar in function to a modular one but often has additional features such as built-in hobs or burners that make it easier to cook your food outside. These islands also often have a large prep space ideal for prepping food items such as vegetables and meat.
4. Outdoor kitchen bars
As their name suggests, outdoor kitchen bars are popular features in backyards that are used for drinking and socialising. They often come with built-in seating areas and a bar top that can be used as a food prep space or dining area. The benefits that come with outdoor kitchen bars include being great for entertaining guests, providing extra space to entertain, and being easy to install.
What are the Different Features Found in Outdoor Kitchens?
Beyond choosing your preferred type of outdoor kitchen, there are many other factors that homeowners should consider when they are planning their designs. Some of the most common features found in these spaces include:
1. Pizza ovens
Pizza ovens are one of the most popular appliances for use in an outdoor kitchen. Not only do they make cooking pizza outdoors easier, but they also add a fun and entertaining element to backyard parties.
2. Cooking grills
Any good outdoor kitchen is equipped with high-quality grills, whether they are made from gas or traditional charcoal.
3. Refrigeration units
Drink cooler units help you store all your drinks and refreshments in your outdoor kitchen so that you have easy access and can keep them cold while you entertain guests outdoors.
4. Barbecue grilling stations
Barbeque grilling stations are not only a great way to cook up some delicious grilled meats, but they also add a fun element to backyard parties or family outings. Building an outdoor kitchen with a built-in grill station is a great investment that will allow you to make the most of your time spent outdoors as well as entertain guests at your home in style!​
If you're considering adding an outdoor kitchen to your next home construction or renovation project, be sure to work with a reputable design professional who can help you plan and execute this exciting new feature! They'll be able to help you choose the ideal type of outdoor kitchen for your needs and ensure that every detail is carefully considered. Whether you're looking for a traditional grilling station setup or something more modern and stylish, they will have all the knowledge needed to deliver exactly what you need in no time at all. With their assistance, your backyard will become the perfect place for entertaining guests or simply spending some quality time with friends and family as you cook up delicious meals outdoors!​
Planning For An Outdoor Kitchen? Here are 10 Things to Consider
When planning for an outdoor kitchen, you should consider several factors, and here are 10 of them:
1. Spatial requirements
Outdoor kitchens can be relatively large and expansive, so you need to determine how much space you will require in your backyard for a functional outdoor kitchen. You may need to invite a fabrications expert to come and take measurements of the area, so you can find out what is possible and how the area will be best utilised.
2. Weather conditions
It is important to consider whether your outdoor kitchen will be waterproof. If you have a raised patio or deck that is open to the elements, then you may need to invest in waterproofing options to keep it dry during wet weather. When deciding on materials for your outdoor kitchen, try to make materials that are resistant to water damage and humidity for instance concrete pavers.
3. Power requirements
Outdoor kitchens often require more power than indoor ones, with many homeowners investing in gas lines and electric wiring for their outdoor cooking appliances. You should consult a professional electrician or plumber if you have any questions about installing power in your outdoor kitchen.
4. Budget
An outdoor kitchen can be a pricey investment, especially if you are looking to install high-end appliances. However, it is possible to find affordable options that still have high functionality and quality craftsmanship. When figuring out your budget for an outdoor cooking space, you should include all the costs associated with building and furnishing it, for instance, flooring materials, appliances, and countertops.
5. Appliances and finishes
When planning an outdoor kitchen, one of the most important aspects to consider is what appliances you want to bring into the space. You will also need to decide on any design elements or finishing touches like lighting fixtures and colour schemes to pull everything together aesthetically.
6. Flooring materials
When it comes to flooring, there are many options available for outdoor kitchens, including concrete pavers and stone tiles. Thoroughly research the different types of materials that are suitable for use in an outdoor kitchen so you can choose a material that will handle the wear and tear from constant cooking activities.
7. Drainage
If your outdoor kitchen has a sink or other water fixture, it is important to have proper drainage installed in order to prevent flooding of the space. You should also consider installing permanent flooring material that can handle being wet on a regular basis and won't rot easily such as concrete pavers and other related materials.
8. Ventilation systems
Outdoor cooking spaces need good ventilation to ensure that the area doesn't get too hot or humid during the warmer months of the year. Installing an overhead ventilation system will help keep the temperature down, as well as provide an energy-efficient way to circulate air within the space.
9. Location and placement
When deciding where to put your outdoor kitchen, you should aim for a place that is easily accessible and close to your indoor kitchen. It will also be helpful to take into account aesthetics, such as whether you want your outdoor cooking space to blend in with or complement the overall design of your backyard.
10. Surrounding plants and landscaping
When planning for an outdoor kitchen, it is important not to overlook how surrounding greenery and landscaping might affect its functionality. Choosing plants that are well suited for a mix of sun and shade, along with strategically placed trees, can help you achieve the best results for an outdoor kitchen area.
Top Kitchen Trends and Styles in Australia 2022
There are many different kitchen trends and styles to choose from in Australia, including modern, rustic, and traditional designs. Here are some of the top options for Australian homeowners in 2022:
1. Modern kitchens
Modern kitchens are clean-lined and minimalist in design, with a focus on incorporating high-quality materials such as stainless steel or marble. These types of kitchens typically use sleek, contemporary lines to create an open, airy feel that is perfect for entertaining guests.
2. Rustic kitchens
Rustic kitchen designs tend to feature natural finishes like wood or stone combined with vintage or antique fixtures and appliances. They often have a homey and welcoming aesthetic that can help create a relaxing cooking environment for family dinners at home.
3. Traditional kitchens
Traditional kitchen designs are often characterized by materials like wood and tile, as well as classic architectural details like crown moulding or built-in cabinetry. While they may be more formal than other types of kitchens, traditional designs can lend a touch of timeless elegance to any home.
4. Country kitchens
Country kitchen designs typically incorporate warm colours and textures, along with plenty of natural light. These types of kitchens often feature a casual, comfortable aesthetic that is perfect for family gatherings and relaxed home cooking.
5. Gourmet kitchens
Gourmet kitchens are often seen in upscale homes and are designed to be the ultimate space for preparing high-end meals. These kitchen spaces tend to have top-of-the-line appliances as well as luxury features like wine storage or multiple ovens.
6. French provincial kitchens
French provincial kitchens are known for their classic and elegant styling, often featuring intricate details like decorative moulding or arched doorways. They also tend to be quite spacious and can be a great choice for homeowners who love to cook and entertain at the same time.
No matter what your style preferences or budget might be, there are sure to be many kitchen options that are perfect for your home in 2022. So why not start exploring your options today? Your dream kitchen is just around the corner!
The Best Australian Made Outdoor Kitchens in 2022
Here are 5 of the top outdoor kitchens that are made in Australia in 2022:
1. Barbeques Galore
Barbeques Galore is a leading manufacturer of high-quality outdoor kitchens and grills, with products that are designed to help you prepare delicious meals for family and friends. Their offerings include everything from built-in grills and storage cabinets to sink faucets, so you can create the perfect space for all your cooking needs.
2. Outdoor Lifestyles
Outdoor Lifestyles is another top provider of Australian-made outdoor kitchen products, including fully customizable designs that allow you to choose the exact layout, materials, and features that you want. With their wide range of options and expert design assistance, you can easily create the perfect outdoor kitchen space for your home.
3. Outdoor Kitchens by Design
Outdoor Kitchens by Design is a popular choice for homeowners looking to add luxury features like wine coolers and pizza ovens to their outdoor spaces, with professional installation and custom designs available to suit any budget or taste.
4. Alfresco Masterpieces
Cronin Alfresco Masterpieces specialises in creating beautiful outdoor living areas using top-quality materials, including stainless steel appliances and stone countertops that can withstand heat, moisture, and other outdoor elements without chipping or cracking. Their masterpiece kitchens contain built-in BBQs that guarantee a world-class experience.
5. Elegant Granite Solutions
Elegant Granite Solutions offers high-end indoor and outdoor kitchens made from natural stone, including granite, marble, and slate. They also offer a variety of professional services including design consultations and kitchen installation, so you can have the perfect space for all your cooking needs. Whether you are looking for traditional or modern designs, there are many top-quality Australian-made outdoor kitchens to choose from in 2022. So what are you waiting for? Start exploring your options today!
Frequently Asked Questions
1. What are some of the advantages of choosing an Australian-made kitchen?
One major advantage of choosing an Australian-made kitchen is that you can be confident in the quality and reliability of the products you are purchasing. Many top manufacturers pride themselves on using high-quality materials and adhering to strict safety standards, so you can rest assured that your kitchen will provide many years of reliable performance. 
2. How much do Australian-made outdoor kitchens typically cost?
The cost of Australian-made outdoor kitchens can vary greatly depending on a number of factors, including the size and features of your kitchen as well as the specific manufacturer you choose. However, most manufacturers offer a wide range of options that are designed to suit different budgets, so there is sure to be an option that is perfect for your needs.
3. What are some common design considerations when choosing an outdoor kitchen?
Some common design considerations when choosing an outdoor kitchen include the available space in your backyard, any existing structures or landscaping elements (such as trees or other plants), and your preferred layout and materials. Other factors may include noise levels from appliances and plumbing fixtures, weather patterns in your area, and more.
4. How do I find a reputable manufacturer of Australian-made outdoor kitchens?
One of the best ways to find a reputable manufacturer of Australian-made outdoor kitchens is to do your research online, reading reviews and testimonials from past customers. You can also ask for recommendations from friends or family members who have recently renovated their outdoor spaces. Make sure you look for the Australian Made logo  which guarantees that your products are certified Australian Made. https://australianmade.com.au/  
5. What are some tips for maintaining an Australian-made outdoor kitchen?
To keep your Australian-made outdoor kitchen in top condition, it is important to perform regular cleaning and maintenance tasks such as degreasing countertops and appliances, re-staining or sealing wood surfaces, replacing worn grout, and caulking. You should also take steps to protect your kitchen from extreme weather conditions, pests, and other potential hazards. With proper care and maintenance, your outdoor kitchen will continue to look great for many years to come.
Conclusion
Whether you are looking for a traditional or modern design, there are many top-quality Australian-made outdoor kitchens to choose from in 2022. Whether you are looking for high-end appliances, durable materials, or professional installation and design services, there is sure to be an option that is perfect for your needs. So what are you waiting for? Start exploring your options today!