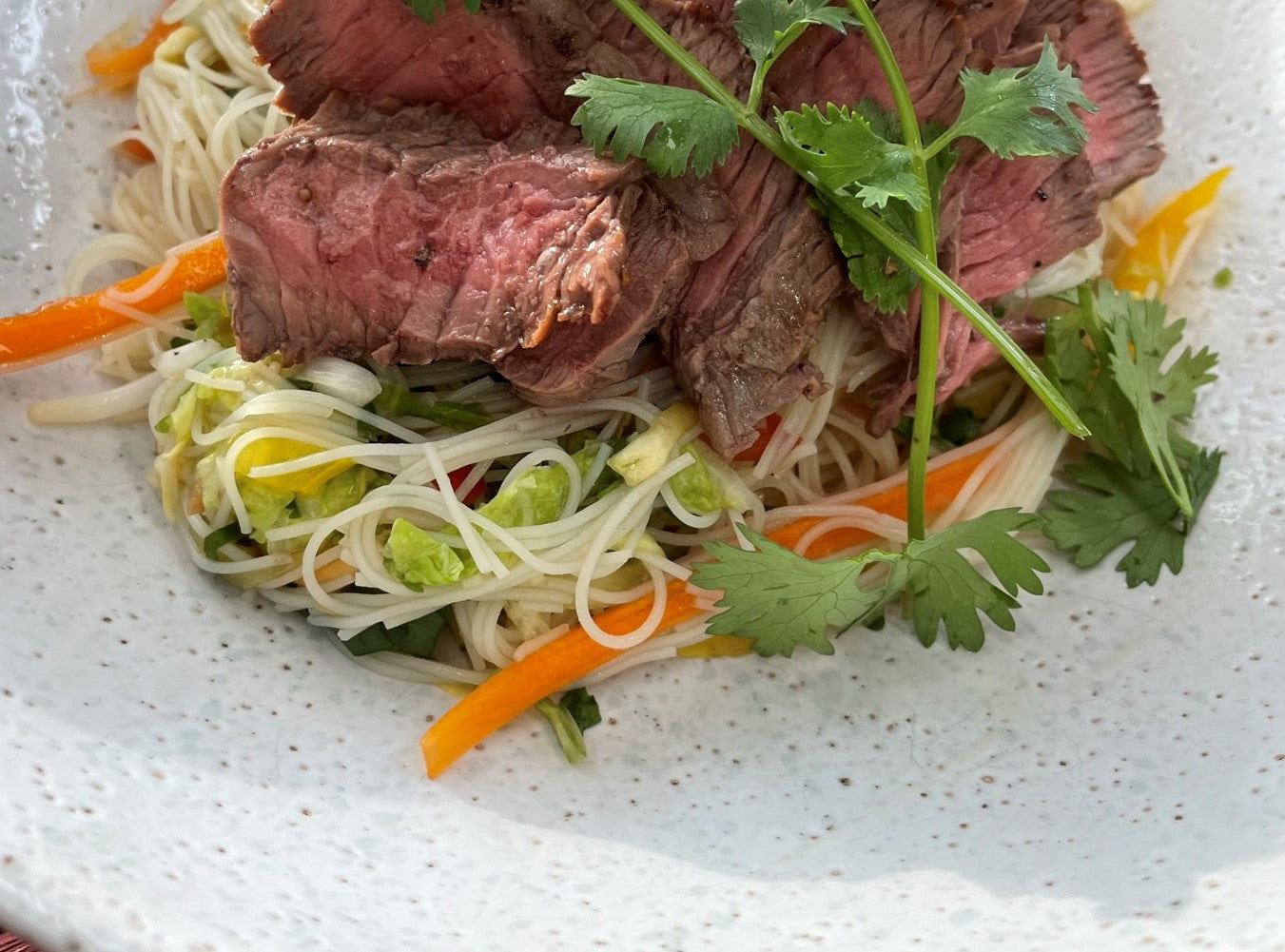 Spicy Thai Beef salad; The perfect dish for your next BBQ
 If you're looking for a delicious and healthy dish to cook in your outdoor kitchen this weekend, look no further than this spicy Thai beef salad recipe. The combination of flavors in this salad is sure to impress your guests and make your BBQ a hit.
Ingredients:
500 g rump steak

Vermicelli Noodles (pre soaked)
1 x red 

capsicum

1 x yellow capsicum
1/2 Chinese cabbage
1 x carrot
1 x chili (or to taste)
Handful bean sprouts
2 x spring onions
Handful Coriander
1 x lime
1 TBL spoon pickled ginger
Sprig of Fresh mint
1 TBL spoon pickled ginger
Dressing
1/2 clove garlic, crushed
5 g fresh ginger, finely chopped
30 ml Soy sauce
30 ml Mirin sauce
10 ml Fish sauce
20 g brown sugar

Directions
Finely slice the chili, spring onion and coriander, set some aside for garnish.

Julienne the carrot, cucumber, cabbage, red and yellow capsicum. 

Add the vermicelli noodles, carrot, cucumber, capsicum, bean sprouts, mint, pickled ginger, coriander, chili, spring onion and cabbage to a bowl, toss to combine.

Heat your Cronin Alfresco BBQ plate until it is hot and sizzling.

Season the rump steak with salt and pepper and lightly coat with olive oil. 

Grill the steak on the BBQ for about 4-5 minutes, turn the steak over and cook for another 3-4 minutes or until your liking.

Remove the steak from the grill and place on a dish to rest, covered.
While the steak is resting, make the dressing by combining all the ingredients in a small bowl and stir. Pour the dressing over the salad and toss to combine.
Slice the steak into thin strips, ensuring you slice against the grain to keep it tender.
Serve the salad in individual bowls, placing some of the sliced steak on top of each serving
Garnish with the set aside chili, spring onion and coriander. Squeeze on some lime juice. 
Serve and enjoy
This Thai beef salad is perfect for a hot summer day and the combination of flavours is fresh and delicious. The steak is juicy and tasty, while the herbs give it a nice freshness, and the chilies give it a kick. Add the marinade and this salad gives the perfect balance between salty, sweet, and sour.
Cooking this salad on your outdoor kitchen BBQ gives it an extra smoky flavour that pairs perfectly with the other ingredients. It's a great dish for serving at a BBQ party, or for a nice, quick weeknight dinner.
Thai beef salad recipe is a great way to elevate your BBQ game with a delicious and healthy dish. The combination of flavors and the smoky taste from cooking it on the BBQ make it a hit with everyone. Give this recipe a try and enjoy it with your family and friends.
CRONIN ALFRESCO
Sometimes deciding what to cook when having a BBQ can be quite a challenge, so we hope that this simple recipe will give you some inspiration for your next BBQ, or you can try our 5 EASY BARBEQUE RECIPES TO TRY THIS WEEKEND for more options.
Cronin Alfresco believes that outdoor kitchens are about fantastic cooking and fantastic food, bringing family and friends together, and enjoying the feeling that you are "eating out" from your own home
We can help to create your next "eating out" experience with premium stainless steel outdoor kitchen cabinets. To find the Cronin Alfresco Outdoor Kitchen that suits your lifestyle, please feel free to view our range HERE or contact one of our friendly staff on 08 8234 0096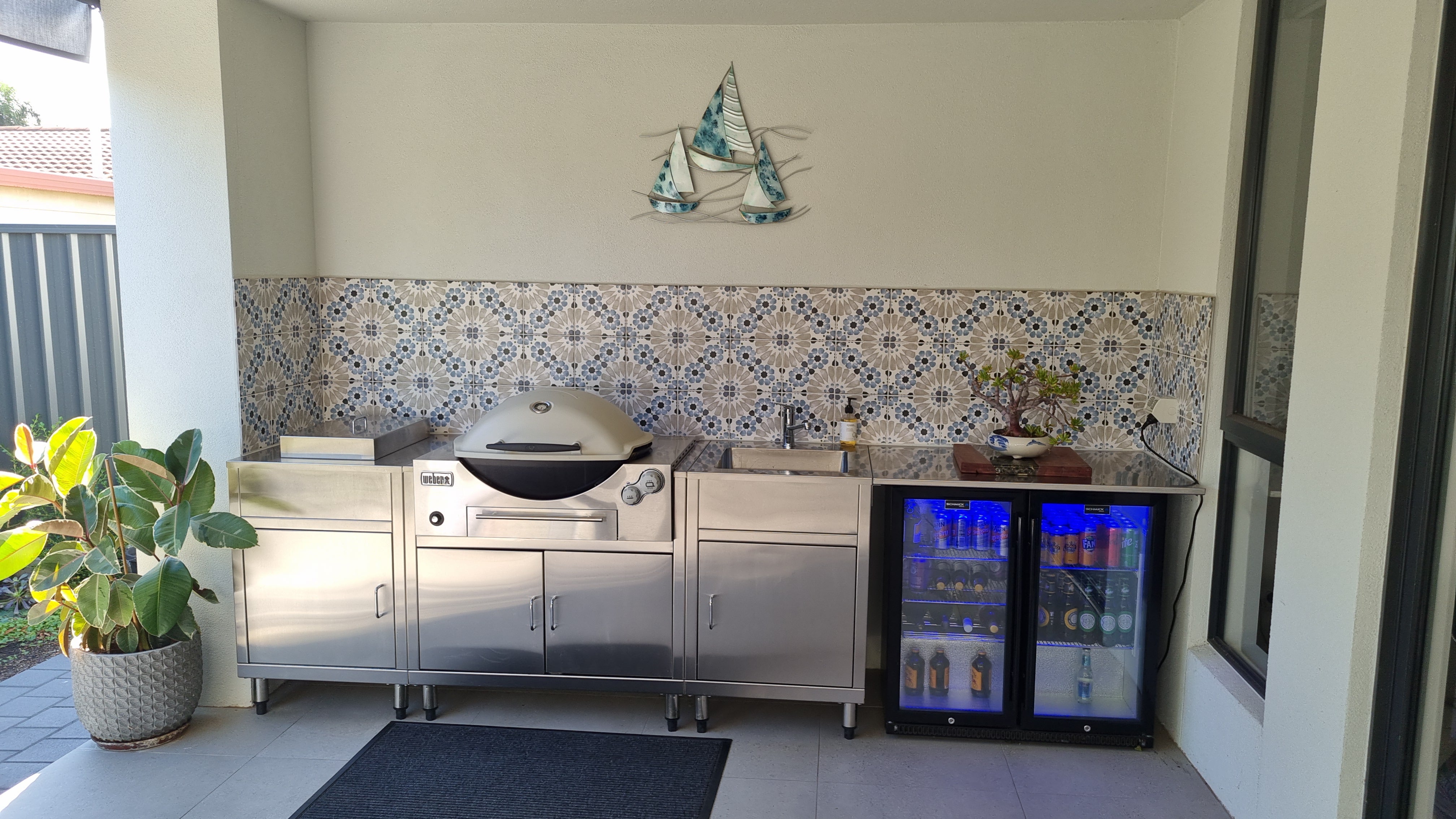 Outdoor Kitchen Builders Adelaide
Outdoor Kitchen Builders Adelaide Outdoor kitchens have become quite the trend in recent years. Many people are moving away from traditional indoors cooking methods and towards outdoor grilling and...
Read more